Surface Eddy Current Testing
.
.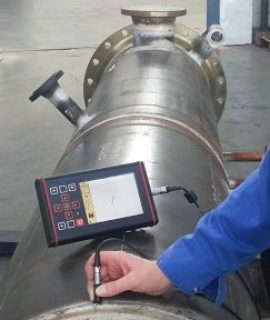 Eddy current examination is a NDT method based on the principle of electro- magnetic induction and when it is use to find surface breaking flaws in components and welds, it is knows as surface Eddy Current Testing. Specially designed surface probes are being used for this inspection. Surface probes coils typically mounted close to one end of a plastic housing. Technician moves the coil end of the probe over the surface of the test component during inspection.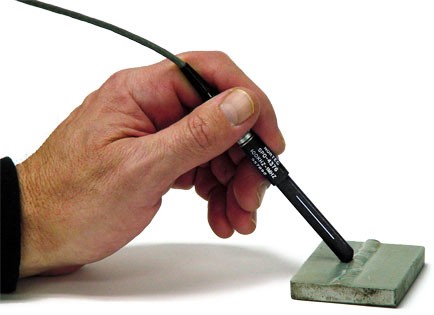 Crack Detection Principle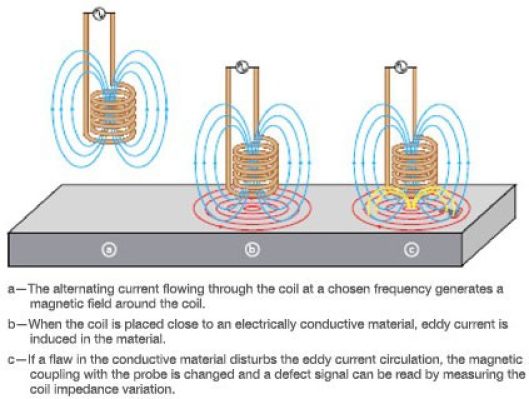 Defects such as cracks are detected when they disrupt the path of eddy currents and weaken their strength. A knowledge of probable defect type, position, and orientation is highly helpful in surface EC testing
Test Equipment
Three basic pieces of equipment are required for this inspection:
.
Instrumentation: Multi frequency digital units are used
Probes: Surface probes are coils typically mounted close to one end of a plastic housing. Selection of probes are available for specific use
Reference standards: In order to give the eddy current inspector useful data while conducting an inspection, signals generated from the test specimen must be compared with known values. Reference standards are typically manufactured from the same or very similar material as the test specimen.
.
Test Parameters
Selection of proper probe: The probe should fit the geometry of the part and the coil must produce eddy currents that will be disrupted by the flaw.
Selection of a reasonable probe drive frequency: For surface flaws, the frequency should be as high as possible for maximum resolution and high sensitivity. For subsurface flaws, lower frequencies are necessary to get the required depth of penetration and this results in less sensitivity. Ferromagnetic or highly conductive materials require the use of an even lower frequency to arrive at some level of penetration.
Calibration of set-up using Reference standard: An eddy current system consisting of an instrument and a probe must always be calibrated with appropriate reference standards at the start of a test. This process involves identifying the baseline display from a given test piece and observing how it changes under the conditions that the test is intended to identify. In flaw detection applications, this calibration process typically involves the use of reference standards of the same material, shape, and size as the test piece, containing artificial defects such as EDM notches, drilled holes, or milled walls to simulate flaws. The operator observes the response from the reference standards and then compares the indications from test pieces to these reference patterns to categorize parts. Proper calibration with appropriate reference standards is an essential part of any eddy current test procedure
.
Test Procedure
The basic steps in performing an inspection with a surface probe are the following:

Select and setup the instrument and
probe
.

Select a frequency to produce the desired depth of
penetration.

Adjust
the
instrument
to
obtain
an
easily
recognizable
defect
response using
a calibration standard or setup
specimen.

Place the inspection probe (coil) on the component surface and null the
instrument.

Scan the probe over part of the surface in a pattern that will provide complete
coverage
of the area being inspected. Care must be
taken
to maintain the same probe-to-surface orientation as probe wobble can
affect
interpretation of the signal.
In
some
cases,
fixtures
to
help
maintain
orientation
or
automated
scanners may be
required.

Monitor t
he signal
for
a local change in impedance that will occur as the
probe moves over a
discontinuity
.
Advantages of Surface Eddy Current Testing
.

Sensitivity to surface defects. Able to detect defects of 0.5mm in length under
favorable
conditions. Sensitive to small
cracks.

Detects surface and near surface
defects

Can detect through surface coatings. Able to detect surface defects through non- conductive surface coatings
in
excess
of
2mm thickness.

Inspection gives immediate
results.

Test
probe does not need to contact the part – possible to do inspection at high te
mperatures.

Inspects complex shapes and sizes of conductive
materials.

Little pre-cleaning is required.
However
all surfaces to be inspected must be free from loose debris,
loose
or uneven surface coatings, weld
spatter,
slag and surface scale need to be
r
emoved.

Portability.
Portable test equipment is very small and light, some of the latest equipment being as small as a video cassette
box
and weighing less than
2kg
.
Limitations of Surface Eddy Current Testing

Very
susceptible to magnetic permeability changes. Small changes in permeability have a pronounced
effect
on the eddy currents, especially in ferrom
agnetic materials. This
makes
testing of welds and other ferromagnetic materials difficult but, with modern digital flaw detectors and probe design, not impossible.

Only effective on conductive materials. The material must be able to support a flow of elec
trical
current.

Flaws such as delamination that lie parallel to the probe coil winding and probes scan are undetectable. The flow of eddy currents is always parallel to the surface. If a planar
defect
does not cross or interfere with the
current
then the
d
efect
will not be
detected.

Not suitable
for
large areas and/or complex geometries.

Signal interpretation required. Due to the many
factors
which
affect
eddy currents, careful interpretation of signals is needed to distinguish between relevant and non-relevant indications. Skill and training required is more than other
techniques

No permanent
record
(unless
automated).

Surface must be
assessible
to
probe

Depth of penetration is
limited

Inspection through any type of corrosion protection
systems
must be fully replicated on the test sample, this in term off lift off and/or electrical conductivity.
Surface ECT equipment/probes/calibration standards
.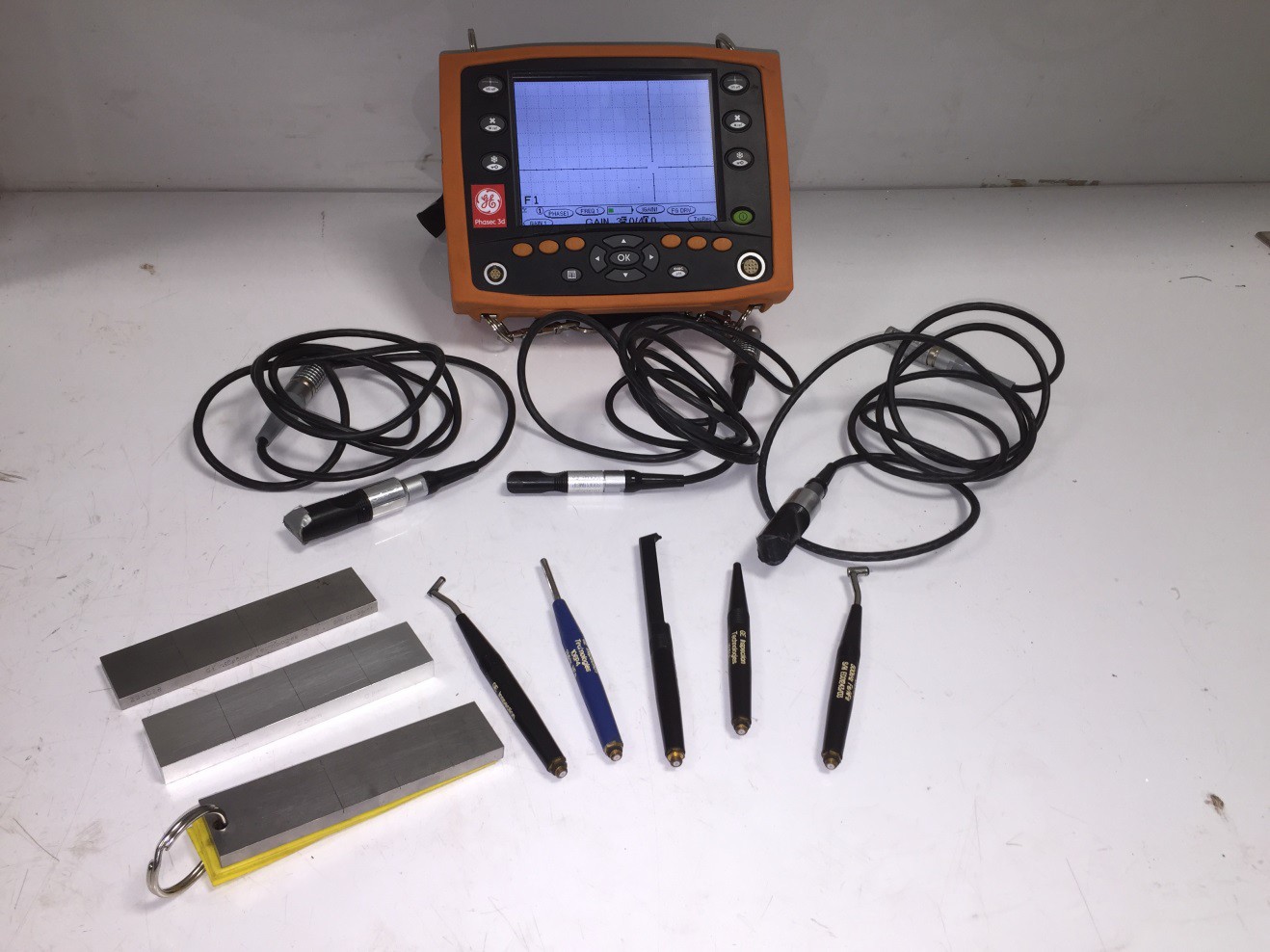 .